Stephanie Firdman: Violin & Viola Instructor & Conductor of Repertory Orchestra Division - Florida Youth Orchestra
"As a string teacher in South Florida, I have known Tim Barnes for many years and feel very comfortable sending my students to him to either rent or buy instruments. He always puts them at ease about the process of choosing, renting and/or buying an instrument particularly violins or violas.
He is very knowledgeable and can answer any question that they might have. I am looking forward to sending more of my students to Tim for rentals or violin/viola purchases."
Laurice Campbell Buckton; Artist in Residence at Bak Middle School of the Arts
"Whether you are spending $10 or $10,000, you will always be treated with respect and honesty by Tim Barnes. He is an expert in his field, a knowledgeable guide for buying an instrument and a wizard for necessary repairs. For more than ten years, he has been guiding me and my students in the buying and renting of instruments. It gives me great pleasure to recommend him to you."  |Virtuoso Viola & Violin Instructors; South Florida / Boca Raton based since late-Eighties.
RentalPricing-AllStrings
[Click the link to download price sheet .PDF file]
Contact Information Tel. (561) 809-9988
[email protected] | www.barnesviolins.net
An economical rental program with the student in mind:
-> the Instruments are from the Award-Winning shop of A. Eastman
Standard and Advanced models of instruments available.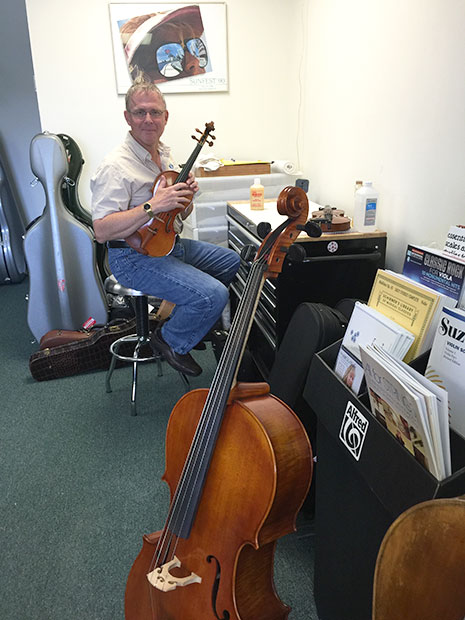 Tim Barnes , Co-Owner
Co-Owner
Tim Barnes is Co-Owner of BarnesViolins LLC. with his wife Virginia and has over 20 years experience in the violin business.
He is a graduate of the San Francisco Conservatory of Music.
While in college, Mr. Barnes had 2 Italian violas on loan to him, a Eugenio Degani, and a Vincenzo Sannino from The Colburn Foundation in Los Angeles. He has been a performer and teacher in South Florida since 1988. In addition he has served on the executive board of AMERICAN FEDERATION OF MUSICIANS, Local 655 and is a member of the Violin Society of America.
As a performer he was the principal violist for the Palm Beach Opera Orchestra, Atlantic Classical Orchestra, and the Palm Beach Pops. He was also a fellow and founding member of The New World Symphony under the Direction of Michael Tilson Thomas.
Mr. Barnes has performed as principal Viola in numerous musical productions including Phantom of the Opera, Sunset Boulevard, and Miss Saigon at the Kravis Center and Broward Center for the Performing Arts, as well as the National Tour of Joseph and the Amazing Technicolor Dreamcoat.
Mr. Barnes had the opportunity to perform under the baton of Leonard Bernstein at the Schleswig Holstein Music Festival. He has also recorded with many artists, including Michael Jackson, Gloria Estefan, The Bee Gees, Jon Secada, Alejandro Sanz, and Ed Calle.
Tim Barnes' well rounded experience in the performing and teaching community, as well as his years in the violin business, gives him a unique ability to assist players in selecting an instrument and bow that they are truly happy with. "All Roads Lead To Barnesviolins!"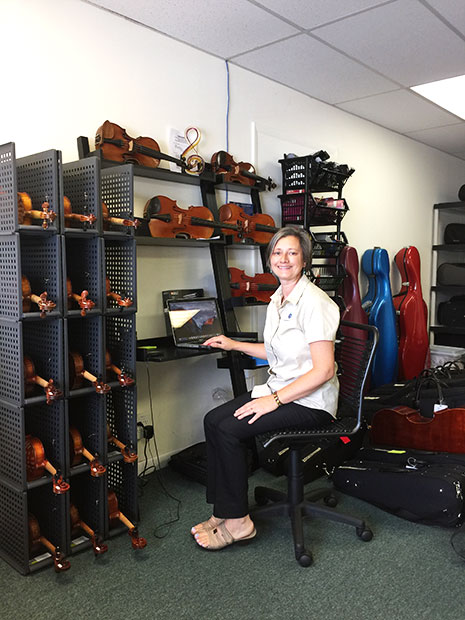 Virginia Barnes | Bio, Owner
Violin Teacher, Performer and Co-owner of Barnesviolins LLC.
Virginia Barnes is a graduate of Juilliard Pre College and The University of Michigan where she earned a Bachelor of Violin Performance with highest honors as a student of Paul Kantor. Her performing experience includes being assistant principal second violin and a member of the first violin section of The Palm Beach Opera Orchestra. She has also performed with The Palm Beach Pops, The Boca Pops, The Florida Philharmonic, and The Naples Philharmonic. She has performed on the national tour for Joseph and the Amazing Technicolor Dreamcoat.